How To Recover Funds From Investment scam
One major aspect of frauds or scams schemes is that it tends to follow the current social-economic situation. From Crypto scams to the different forms of investment scams and Forex exchange scams. Fraudsters are using the latest technology to steal people's identities and cart away with their money, so it is important for recovery agents to use the latest cutting-edge technology doing the recovery process.
Unregulated Investment Comapnies
When it comes to brokerage firms, the security of capital is solely based on whether the broker you want to trust your funds with is regulated or not. A broker that is not licensed or regulatory can't be trusted because this simply means they are not governed by anyone, nobody to hold them accountable for whatever they do with traders funds, they are their own boss. 
Some brokers go and register under an unserious regulatory body or in a country without a strict financial rule on forex brokers. Countries like St. Vincent and the Grenadines (SVG) is known for not having any financial rule in place for forex brokers, so fraudulent brokers tend to establish and register their firm in this region to trick the public.
From a trader's perspective, this means that dealing with SVG-registered brokers or unregulated brokers is extremely risky because there are no guarantees for the security of funds and no authority to turn to if something goes wrong. And it usually does.
To protect yourself from scammers and the infamous volatility of the market, check where the broker is registered and if there is a regulatory body in place, most countries have a dedicated regulatory body in place and agencies in charge of the financial sector;
The Cyprus Securities and Exchange Commission (CySEC)
Commissione Nazionale per le Societa e la Borsa (CONSOB) for Italy
The Financial Conduct Authority (FCA) – for the United kingdom
The Australian Securities and Investments Commission (ASIC)
The National Futures Association (NFA) – For the United States. And other European Regulatory authorities.
Brokers licensed in these jurisdictions are required to meet a long list of requirements to protect the financial interest of the consumers, i.e., traders.
In Summary: Avoid going into business with an un-regulated broker. Many negative comments about traders losing their funds to them.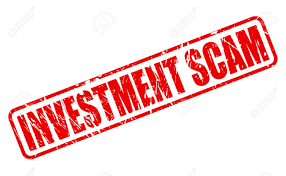 How to recover lost funds
If you have fallen for the Investment scams and are looking for ways to recover your money, this section of the article is meant for you. 
If you have lost money to Investment scam, don't panic. You are not the first, and you likely won't be the last. Mistakes can happen even to the most cautious of investors, and this should be used as a learning opportunity.
You have to hire a Fund Recovery Expert to help you recover your funds. A Fund Recovery expert can assist you in filing for a successful Chargeback with your financial service provider, wire recall or a crypto recovery depending on your mode of payment to the fraudulent broker.
A chargeback is a reversal of a credit card transaction. You have to structure a report to convince your financial provider that you were scammed by the broker you went into business with. A Fund Recovery expert is a group of Lawyers, data recovery experts and financial advisers, so a Fund Recovery personnel is trusted to put down a well-structured report to file for a chargeback.
You can hire a Fund recovery expert from Recoveries Pro. Recoveries Pro is a trusted platform where you can hire different recovery experts such as Funds, Data, Cryptocurrency Wallet, Bitcoin, etc. With over 3000 resolved cases, Recoveries Pro can be trusted to recover your lost funds from Investment scams.
Benefit Of Fund Recovery Expert/Specialist
If you are on the hunt for a seasoned and professional fund recovery expert it is best you go to Recoveries Pro, there are lots of experts there that can help you recover your funds in no time. Also, you should check if their service is suitable for your needs and budget. Here are 5 ways hiring a fund recovery specialist can be a great decision:
They Protect you against fraudulent brokers
Making sure your funds are safe against scams is the biggest challenge in the trading marketplace. Recovery expert offers hints on how to secure your funds and sometimes red flag a fraudulent broker on their website or forums.
They can get your money back faster
Fund recovery experts are specialists at this job. They understand how the scam scheme works enough to get your money back faster compared to if you do it yourself. They understand how to gather evidence for their cases and prove that the broker is guilty of misconduct.
They can offer assistance with applicable law
Fund recovery expert sometimes teams up with legal authority if needed to make sure your money is recovered if legal attention is needed may be going to court or suing the scammer.