In 2020 alone victims lost around $304 million from being swindled by their cyber sweetheart. This is just the surface of this scam scheme, online scammers don't only send phishing emails or text messages, they also play the long game by scamming people through their emotions.
A dating scam also called a romance scam sometimes, is when someone gets tricked into believing they are in a romantic relationship with someone they met on the internet. Whereas the person they are in the relationship with is a cybercriminal using a fake identity to gain their victim's trust so they can ask or blackmail them for money.
In this article, we'll identify common online dating scams and offer some tips on how to tell if someone is scamming you online.
Profile Warning signs
The dating profile of someone real usually has different pictures of the person in various situations, with few showing the person's whole body and not just their face. The individual might also include links to their Facebook or Instagram account which show their online presence in a different light. There are some signs to look out for when you are looking at the profile of a potential match on online dating apps. Some signs of a scammer's profile include:
There have very few pictures on their profile, maybe one or two, and the image seems to be model or glamour stock pictures.
Despite showing under the category of people in your area they work or live in another state or region far from where you are.
Little information about them on their profile and no links to their social media handles.
If their interest or hobbies exactly match yours.
Their profile seems too good to be true.
They want to take the conversation outside of the dating app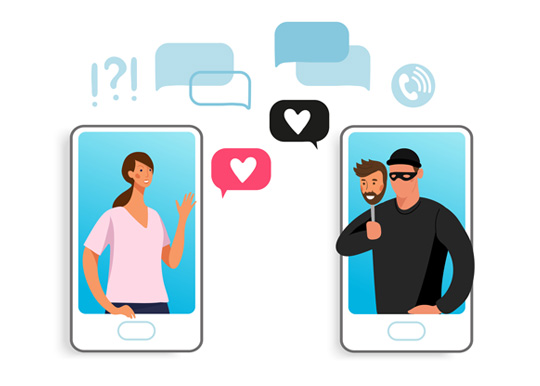 Online dating scammers convince victims to leave the dating site and use another form of messaging such as your email or instant messaging. This might not be a major problem at first, because when you are getting to know someone you might want to move out of the dating app for better familiarity, however, if the person you meet on dating apps is adamant about this you should be cautious of them. Be very careful when someone asks for your email address or phone number. Cybercriminals also choose to message you via SMS or an app like WhatsApp. Be wary of anyone you haven't met that wants to move the conversation to another platform.
Online Dating scammers professes love early on
The most common sign of an online dating scam is when a dating scammer professes strong emotions in a relatively short period. They may say that they love you and feel a very deep emotional connection with you, they might go as far as asking you to marry them. These are all part of emotional manipulation in tricking you while using only dating platforms. This is why cybercriminals target people that are isolated and vulnerable since they are yarning for attention or connection already. You should look out for any matches that are overly flattering and overly devoted early on in your communication when you haven't even met.
They always come up with excuses after promising to meet you
A common scheme among online dating scammers is to make plans to visit you, but when the time comes, they always cancel because of some unexpected issue. Since the scammer is not who they say they are, they don't want to meet in person.
This is also the reason why so many online dating scammers claim to live or work in another state or country or be on military deployment; this provides them with an excuse of not being available. Often, their inability to meet you will be accomplished by a request for a loan or any excuse to solicit money. Look out for someone who says something like, "I want to meet you, but I can't buy a plane ticket right now because of x. If you buy me a ticket, I will pay you back! I just want to be together."
Tips to avoid online dating scams
Cross-check and verify. Perform an online search to verify the person's name, photo, location, email address and other details for authenticity.
Slow down and talk to someone you trust. Tell a friend or colleague about your situation, and discuss your next steps with them. A dating scammer might try to separate you from friends or pressure you to make impulsive decisions alone. Don't let a scammer rush you into making any sort of decision.
Do not send money. Never wire money, put money on a gift card or cash reload card, or send cash to an online love interest. You won't get it back.
Use reverse image searches and tools like SocialCatfish.com to verify a person's online identity.
Incase you have fallen victim of Dating scam, you have little to fear about ! Our experts at Recoveries Pro will walk you through the funds recovery process. Visit Recoveries Pro and File a case to get started.